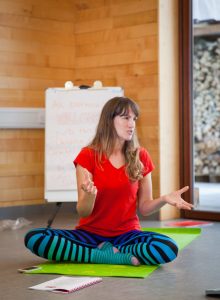 Thank you for visiting my website. I am Jane Collins. I have been a yoga teacher since 2002 and am known for lighthearted classes, in which I aim for a blend of challenge and ease.
Sensitive to the needs of each individual student, I have become skilled in providing classes that suit beginners and very experienced yoga practitioners, and everybody in between.
My intention is that you experience yoga classes full of warmth and nurture, as well as fascinating information about our amazing bodies and how to keep in good physical and emotional health.
I have trained extensively in Hatha Yoga, Anatomy and Physiology, Children's Yoga, Yoga for Pregnancy and Birth, Fertility Yoga, and Postnatal and Baby Yoga.
I run private and group classes and also yoga teacher training courses in each of these areas.
I would love to welcome you to learn more about yoga with me, whether you start as a novice with a group or private class, or as a seasoned yogi, hoping to increase your knowledge, and perhaps even become a teacher.