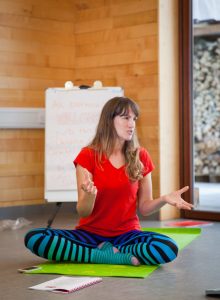 Welcome to my website! I'm Jane Collins, and I've been passionately teaching yoga since 2002. My profound love for yoga blossomed a few years before embarking on this incredible journey, and I've cherished every moment of it.
My mission is to make yoga accessible to a diverse range of people and to offer a variety of teacher training courses. I derive immense joy from assisting individuals in leading lives filled with happiness, and I firmly believe in the ripple effect it creates – your joy has the power to positively influence everything around you.
I provide customized sessions that empower you to understand your physical and emotional needs. Through a diverse range of practices, I aim to help you gain a deeper understanding of yourself.
My intention is to warmly welcome you into the world of yoga. I hope to ignite your curiosity about the fascinating workings of our bodies and provide tools for maintaining excellent physical and emotional health. Together, we aspire to discover moments of pure contentment and for those moments to become more frequent. Let's journey towards greater joy!
I have undergone extensive training in Hatha Yoga, Anatomy and Physiology, Children's Yoga, Yoga for Pregnancy and Birth, Fertility Yoga, and Postnatal and Baby Yoga. My learning journey continues through my own experiences and those of those around me.
I would be delighted to have you explore the world of yoga with me, whether you're a beginner starting with a group or private class or an experienced yogi looking to deepen your knowledge and perhaps even become a teacher. Please explore the menu on this site to discover everything I have to offer.